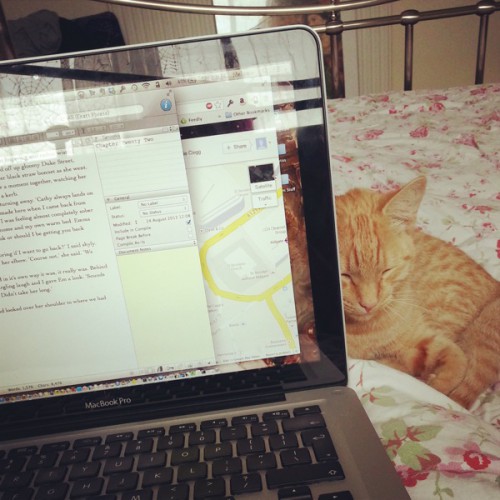 From Whitechapel and the ever lovely Diggory Cat.
I'm not feeling too great right now so I'm posting this from the comfort of my bed, where I am currently covered in cats and books about Jack the Ripper as I work on From Whitechapel. It's going well at the moment – I've written almost 78,000 words now and just cleared a writer's block hurdle which held progress up for a few days.
It's been a fairly quiet week to be honest, mostly involving writing, reading and watching a LOT of Miss Marple. Oops. I don't really enjoy the summer holidays to be honest – I thought they were far too long when I was at school and am now even less enamoured with them as a parent. I adore my children, of course I do, but bloody hell, they are LOUD and also strangely unwilling to let me do any work. However, I know I'm lucky to be able to work from home the way that I do so I try not to complain too much as I'm sure I'll miss these days when they're all grown up and off to university blah blah fishcakes.
New Vivien of Holloway dress, Tunnock's tea towel JOY, lovely new necklaces from Bete Noire, a Mary Queen of Scots coin from the exhibition shop – it now lives in my purse so I'd better make sure that I don't accidentally try to spend it!
I'm on a bit of a self improvement kick at the moment as I have a big birthday looming in a year's time and have resolved not to enter the next decade looking my usual scruffy, unkempt and careless self. It was all very well not to brush my hair or know how to dress for my shape and eat and drink whatever I liked when I was younger but the fact is that I just can't get away with that sort of thing any more and drastic action needs to be taken – therefore I've been investing in Nice Things to encourage me to dress better and take more pride in my appearance while at the same time losing weight and working on a proper cleansing routine and all the rest of it. It seems to be going quite well so far!
As long term readers of this blog will know, I'm a huge fan of Vivien of Holloway clothes, especially their pirate print dresses so I was overjoyed to snap this little beauty up on Ebay last week! They don't seem to make tea dresses in a pirate print any more so I'm extra thrilled to now have one of my very own and will now have to think of somewhere suitable to wear it!
Our trip to Edinburgh gave me a new enthusiasm for my Scottish heritage, particularly the bit that involves Tunnock's teacakes and caramel wafer biscuits. Oops. By some miracle I only put on 3lbs in my three weeks off my diet but I'm taking no chances from now on and have made a bargain with myself that I could buy a couple of Gillian Kyle Tunnock's teatowels for my kitchen (one with a teacake label and the other with a caramel one) IF I faithfully promised not to touch the real thing until I hit my diet target. Ouch. It seems to be working so far though although I may have to add a few more Tunnock's themed items to my home, just to make sure!
I recently decided as part of my self improvement drive that I need to start acquiring really good jewellery as I don't generally wear any. These necklaces from Bete Noire, therefore, were a required purchase as I love their kitschy punk rock aesthetic and I'm also a sucker for anything that can be personalised. In fact, I love them so much that I've just ordered two more and have ideas for a few more that I might get later on.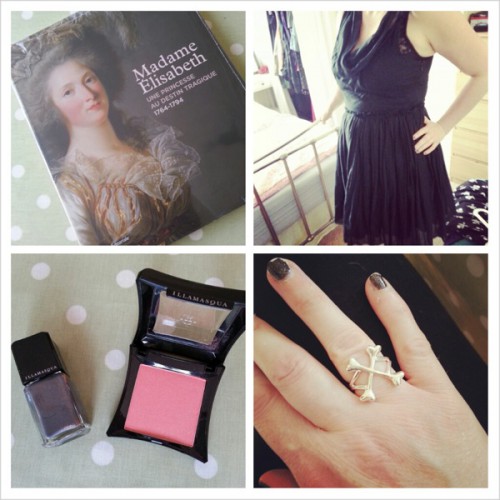 Catalogue for the recent Madame Élisabeth exhibition in Versailles, my miraculous All Saints dress, new lovelies from Illamasqua (blusher in SOPHIE and nail polish in Facet, The Crossbones ring from Bloody Mary Metal.
Sadly after all the going on about it, I totally failed to make it to France for the utterly fabulous exhibition about Madame Élisabeth, the youngest sister of Louis XVI, at her residence near Versailles. However, undaunted, I bought a copy of the exhibition catalogue which arrived last week amidst much excitement. It really is a great book with loads of extra information about the princess' short and tragic life plus lots of fabulous illustrations of dresses, portraits of people she knew and so on. It's brilliant. We're currently planning to spend most of the October half term holiday in Paris so I'll be sure to visit Versailles then to console myself for missing out.
The diet bit of my quest for self improvement has been going really well although I'm still finding it hard to get used to my 'new' shape and size and still think I look exactly the same as I did when I started. However, I couldn't ignore the evidence when I managed to pull the zip up on an All Saints dress that I could barely get over my head when I first bought it four years ago! I'm SO thrilled as I desperately wanted this dress when I first bought it and was heartbroken when it wouldn't fit – now I'm looking forward to it being too big for me…
If you haven't already heard of Bloody Mary Metal and have a thing for chunky rock themed jewellery then I would recommend you pay them a visit right away. I'm madly in love with my crossbones ring, which as you can see can even make chipped nail polish, chewed fingers and scruffy cat hair covered clothes look amazing.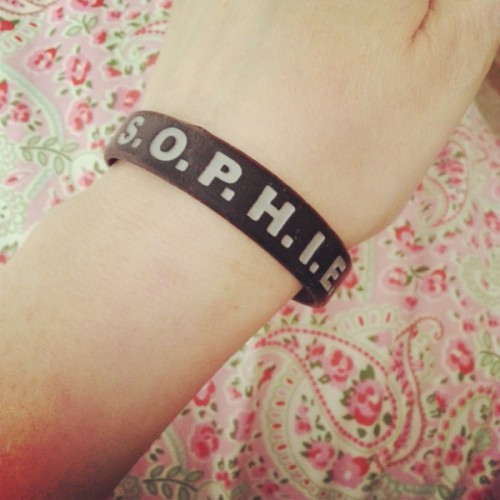 Last but not least, today marks the sixth anniversary of the death of Sophie Lancaster after she and her boyfriend were set upon and horrifically beaten just because they were goths. As you can see from the rest of the post, I'm an alternative dresser myself and proud to be so and although it would be easy to take what happened that night six years ago as a warning to change my ways, to be afraid and to conform to how society thinks I should be, instead I feel like I owe it to Sophie to carry on and refuse to conform or be daunted and scared.
You can read my previous post about Sophie Lancaster here and also find out more about S.O.P.H.I.E which was set up by her mother to promote tolerance towards unconventional dressers here.
RIP Sophie, you'll never be forgotten.
******
'Frothy, light hearted, gorgeous. The perfect summer read.' Minette, my novel of 17th century posh doom and intrigue is now £2.02 from Amazon UK
and $2.99 from Amazon US.
Blood Sisters, my novel of posh doom and iniquity during the French Revolution is just a fiver (offer is UK only sorry!) if you order before the end of August! Just use the clicky box on my blog sidebar to order your copy!
Copyright secured by Digiprove © 2013 Melanie Clegg