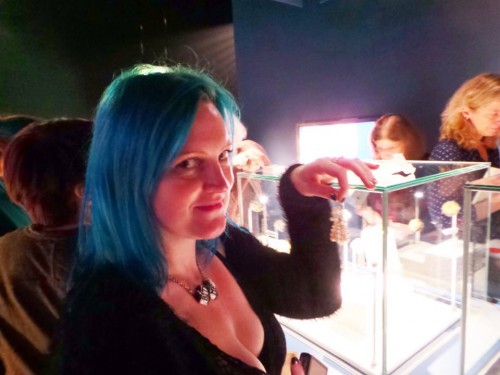 At the Cheapside Hoard exhibition preview, Museum of London. Photo: Suzy Nightingale.

Wow, what a busy and action packed year it has been – full of all manner of historical treats and excitements! As is traditional at this time of year, I've decided to put together a list of my top ten vaguely blog related moments but it's been REALLY hard to narrow it down as so much has happened and I've had such a blast! However, here is my poor effort, such as it is…
Detail from a portrait of Anne of Denmark. Photo: Melanie Clegg.
1. In Fine Style at the Queen's Gallery, Buckingham Palace. I was lucky enough to be invited to the blogger's preview earlier in the year of the exhibition In Fine Style: The Art of Tudor and Stuart Fashion at the Queen's Gallery, Buckingham Palace. It must surely be testament to how thoroughly excited I was about this exhibition that I did not at all begrudge getting up at 3.30am to get there for the 9am start and proof of how ABSOLUTELY BRILLIANT it is that I still think it was an entirely well spent effort.
2. Finishing and publishing Minette
. I was pretty stoked to finish and then release my fourth novel on to an unsuspecting world earlier this year and definitely very pleased with the rather lovely reception it garnered. I've pretty much always preferred the Stuarts to the Tudors so it was a real pleasure to get to write about that period from the point of view of one of my all time favourite historical personages – the Princess Henrietta Anne, daughter of Charles I and Henrietta Maria, sister of Charles II and James II, cousin of Louis XIV and wife to Philippe d'Orléans. I can't wait to get cracking with the sequel again, which should be out sometime in 2014. Psss, if you haven't read it yet and have got a new Kindle for Christmas then it costs mere peanuts from Amazon UK and Amazon US.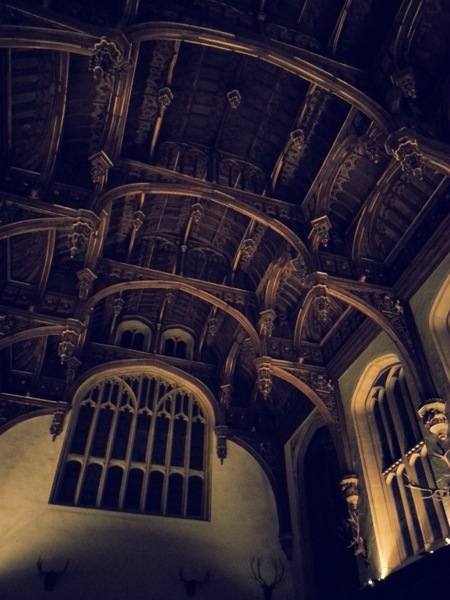 Hampton Court Palace at night. Photo: Melanie Clegg.
3. The Hampton Court Palace sleepover. One of the most obvious high points of my year was my trip to Hampton Court Palace for the second ever sleepover in one of the stately galleries overlooking the Fountain Court. It really was the most amazing event imaginable, even magical at times, and the team at Historic Royal Palace deserve all manner of kudos and congratulations for arranging it. Oh and Monsieur Guillotine deserves to be heaped with praise for paying for me to go as my birthday present! I'm already planning to attend next year's sleepover, which I'm told will have a Georgian theme!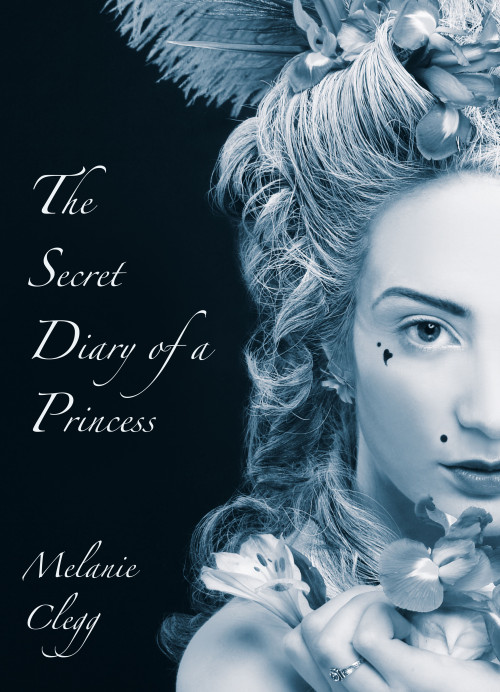 4. A new cover for Secret Diary. Okay, I know this only happened recently but I am still massively in love with this new cover for The Secret Diary of a Princess: a novel of Marie Antoinette
, which is such a MASSIVE improvement on all the previous covers! Like Minette, The Secret Diary can be procured for the merest peanuts from both Amazon UK and Amazon US.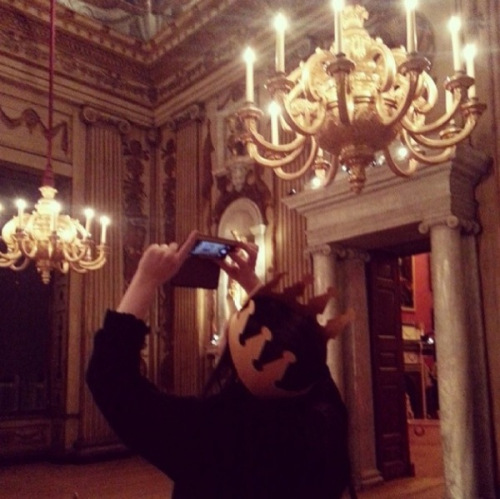 Kensington Palace. Photo: Melanie Clegg.
5. Cocktails at Kensington Palace. Sometimes I think that I must have the most brilliant job in all the world – especially after something like the wonderful Christmas party in the sumptuous surroundings of the king's state apartments at Kensington Palace. I asked my friend Miranda to come with me as she is amazingly good fun and I thought that out of all my chums, she was one of the ones who would most enjoy the opportunity to get all dressed up and get somewhat drunk in the room that Queen Victoria's somewhat controversial christening took place in!
6. Speaking at the Jack the Ripper Conference. My first Conference was just last year in York so it was a bit exciting a year on to be there in the capacity of speaker as well as delegate – it certainly felt a bit like I've gone up a bit in the world! Anyway, I was both excited and also rather scared as I got on my train at Bristol Temple Meads one morning in November and headed off to the East End of London for the first day of the conference, which was planned to involve an epic walking tour around the area followed by an evening at the pub.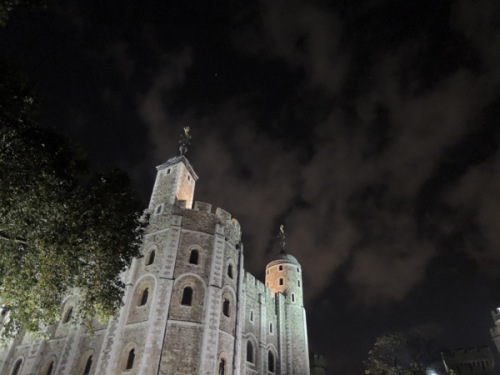 7. The Twilight tour of the Tower of London. I got to the Tower at almost seven in the evening, when it was already dusk and after being greeted at the main gates (there's something so fabulous about swanning airily past the general public isn't there?), I went off to a wine reception in the Wakefield Tower of the Medieval Palace, which was really ace although it felt a BIT odd to be getting slightly squiffy on wine while standing right next to the spot where poor old Henry VI (oh leave him alone, poor guy) was allegedly violently offed. It was a wonderful start to the evening's festivities though – drinking wine in the beautifully lit and rather eerie surroundings of the Wakefield Tower.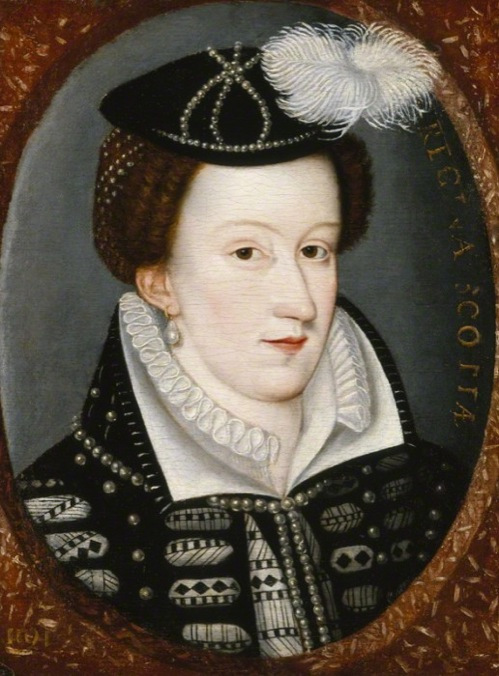 Mary Queen of Scots, unknown artist, c1560-1592. Photo: National Portrait Gallery, London.
8. Mary, Queen of Scots at the Museum of Scotland, Edinburgh. I was desperately keen to take a look at the new exhibition about Mary, Queen of Scots at the National Museum of Scotland in her former capital of Edinburgh and have to say that I was absolutely astounded by the wealth of paintings, artifacts and documents pulled together by the National Museums of Scotland for the show. Seriously, there must be blank spaces on walls and shelves in museums and galleries all over the world as everything related to Mary would appear to have been gathered together for the exhibition from beautiful enamel portraits of her French family to wonderful jewels associated with her to a wonderful replica of her tomb effigy to the actual casket that may have once held the infamous casket letters. It's all here and that's what makes this an unmissable exhibition for anyone at all interested in the life and times of this most tragic Queen as I can't imagine such a wealth of objects being drawn together ever again for public perusal.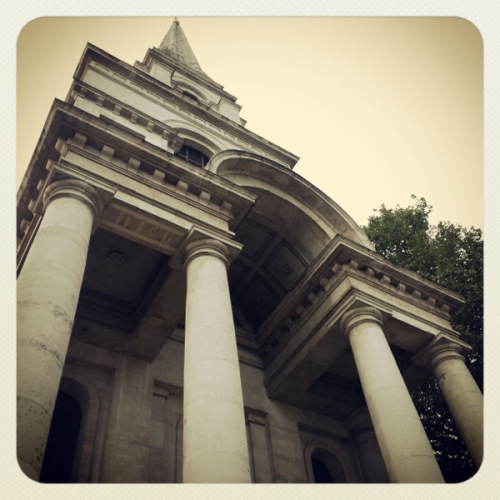 9. Finishing From Whitechapel, the first in what would appear to be a three part series set in Whitechapel during the Jack the Ripper murders and then their immediate aftermath. I had SUCH dubious fun writing this book and am honestly having a ball writing the sequel as well, which actually promises to be even more action packed than the original, mainly because I have much more free rein with the plot and characters. I really can't wait until you can all read it, but don't know when that will be right now as it is in other hands as it were. I hope to have some news soon though!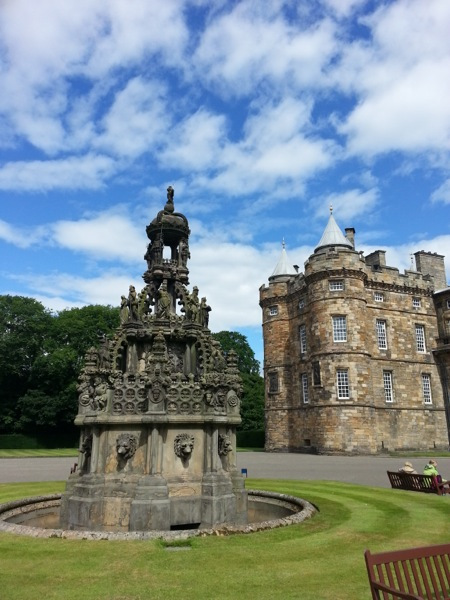 Holyroodhouse Palace, Edinburgh. Photo: Melanie Clegg.
10. The palace of Holyroodhouse, Edinburgh. As long term readers may recall, I paid my first visit to Buckingham Palace last summer and was completely blown away by the magnificence and sense of history that imbues the state rooms. I'd have to say that Holyrood evokes much the same feeling but on a much deeper and more profound level – the surroundings are rather less opulently and ostentatiously splendid perhaps but there's no denying the atmosphere of history, both dramatic and tragic that hangs over the palace, particularly in the older rooms where Mary Queen of Scots once lived and poor old Rizzio met his end.
Anyway, these were my definite highlights of 2013. How was it for you? Tomorrow I'll be back with a top ten of the things that I am most looking forward to in 2014!
******
Check out my new alternative lifestyle blog, Gin Blossoms!
'Frothy, light hearted, gorgeous. The perfect summer read.' Minette, my young adult novel of 17th century posh doom and intrigue is now £2.02 from Amazon UK
and $2.99 from Amazon US.
Blood Sisters, my novel of posh doom and iniquity during the French Revolution is just a fiver (offer is UK only sorry!) right now! Just use the clicky box on my blog sidebar to order your copy!
Copyright secured by Digiprove © 2013 Melanie Clegg