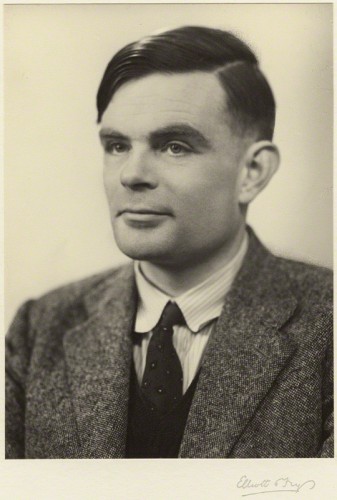 Alan Mathison Turing, Elliot and Fry, 1951. Photo: National Portrait Gallery, London.
On this day in 1912, my hero Alan Turing, without whom many of us wouldn't be here in more ways than one, was born in Maida Vale, London. War hero, genius, mathematician, cryptologist, computer pioneer, independent spirit and cider drinker we all owe him SO MUCH and yet he was treated shamefully by the British government after being prosecuted for homosexuality in 1952, only finally receiving a Too Little Too Late pardon from the Queen on Christmas Eve last year.
The quintessential genius, careless of his appearance, blunt to the point of rudeness in social situations and dismissive of tiresome conventionalities, Alan Turing could also be incredibly funny, charming (when he wanted to be) and was a keen long distance runner and excellent shot, thanks to his training in the Home Guard. He also kept a barrel of cider in the corner of his hut at Bletchley Park, which frankly would make him a man after my own heart even if all of his other qualities did not already enormously endear him to me.
My favourite Alan Turing story comes from Sinclair McKay's The Secret Life of Bletchley Park: The WWII Codebreaking Centre and the Men and Women Who Worked There
, which is a MUST READ if you are at all interested in their code breaking activities during the Second World War.
'Alan Turing was initially rather taken with the idea of Home Guard duty, as it was an opportunity to learn how to shoot; and his shot, as it turned out, was much more accurate than a lot of people's. However, Turing's interest in this activity waned sharply once his shot had been perfected, and around 1942, when after several years of anxiety, the prospect of a Nazi invasion of Britain had receded, he began to absent himself from parades.
The authorities were irritated by Turing's apparently casual approach, insisting that since he signed up for Home Guard duties, he was under military law. Turing calmly pointed out that he was no such thing, and that he had stated as much on the form that he had signed. One of the questions on the form was: "Do you understand that by enrolling in the Home Guard, you place yourself under military law?" Turing had written his answer: "No".' — Sinclair McKay, '
I'll be raising a grateful cider (or two!) to you tonight, Alan.
******
Set against the infamous Jack the Ripper murders of autumn 1888 and based on the author's own family history, From Whitechapel is a dark and sumptuous tale of bittersweet love, friendship, loss and redemption and is available NOW from Amazon UK
and Amazon US.
'Frothy, light hearted, gorgeous. The perfect summer read.' Minette, my young adult novel of 17th century posh doom and intrigue is now 99p from Amazon UK
and 99c from Amazon US. CHEAP AS CHIPS as we like to say in dear old Blighty.
Blood Sisters, my novel of posh doom and iniquity during the French Revolution is just a fiver (offer is UK only sorry!) right now! Just use the clicky box on my blog sidebar to order your copy!
Copyright secured by Digiprove © 2014 Melanie Clegg