Infanta Mariana Victoria of Spain, Belle, c1725. Photo: Château de Versailles.
Today, we're going to take a step back to the eighteenth century and the awkward tale of a royal marriage that didn't happen. Now, about ten years ago, I was actually unceremoniously dumped two weeks before I was due to get married, which was pretty awful (although to be honest, I'd just met the future Monsieur Guillotine when it happened and was starting to think that maybe I'd rather be with him or at least someone much more like him and rather less like my unprepossessing fiancé so it was no great shakes really) but imagine having a big state marriage arranged for you, moving to your affianced's country to be raised alongside him and THEN being dumped four years later and packed off home again. Ouch.
The heroine of our tale of WOE was born Mariana Victoria of Spain in Madrid on the 31st of March 1718 and was the eldest daughter and second child of Philip V of Spain and his second wife, Elisabeth Farnese. At the point of the little Infanta's birth, the historically occasionally rocky relationship (punctuated by a series of dynastic matches) between Spain and its neighbour, France was relatively peaceable as both countries were being ruled by Bourbon cousin kings, one of whom was the grandson and the other, the great grandson of Louis XIV and Maria Theresa of Spain although this would soon go awry later in the same year when war broke out between Spain and a group of allies, which included France.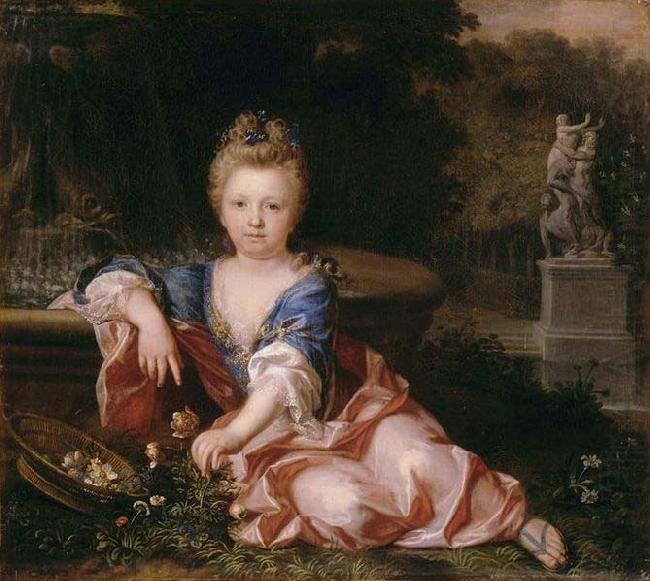 Infanta Mariana Victoria of Spain, Belle, c1725. Photo: Château de Versailles.
In fact, Mariana Victoria's father, Philip had been born at Versailles back in 1683 and was the second son of Louis XIV's ill fated only legitimate son and heir, the so called Grand Dauphin. However, when the Spanish throne fell vacant in 1700 after the death of Philip's childless uncle, Charles II, the young prince (he was just seventeen at the time), who had been named in Charles' will as his successor, was packed off to Spain to become King – after renouncing his rights and those of his descendants to the French throne. He then promptly married yet another cousin, the thirteen year old Maria Luisa of Savoy (the granddaughter of Minette
, one of whose daughters had been married off to Charles II of Spain) and set about making his own dynasty.
When the war of 1718 (catchily called the War of the Quadruple Alliance, which sounds a bit Star Wars to me but what would I know?) ended in 1720, the usual round of treaties, land swapping and marriages began in order to show the world that everyone had made friends again and it was at this point that a match between the two year old Mariana and the ten year old King of France, her cousin Louis XV was mooted by his Regent, Philippe, Duc d'Orléans. At the same time, two of the Infanta's elder brothers, Louis and Charles were betrothed to two of the Regent's daughters, Élisabeth and Philippine, creating a trio of close unions that it was hoped would ensure peace between Spain and France for quite some time to come.
Infanta Mariana Victoria of Spain.
Of course, due to the bride to be's tender years, the actual marriage itself couldn't take place for several years and so it was decided that rather than letting her stay in Spain and then come to France as an adolescent (and some courtiers would no doubt still be able to recall stories of how out of place her great grandmother, Maria Theresa had been when she had first arrived at the French court to marry Louis XIV), she should travel to France straight away and be raised there alongside her future husband as a proper French princess and future Queen. On paper and during the protracted wedding arrangements it no doubt seemed like the perfect plan – the French, after all, had form for being very fussy about their imported princesses (even that alleged paragon Marie Antoinette did not initially pass muster when she first became Dauphine) and there had, of course, been a similar situation in the sixteenth century when Mary Queen of Scots had arrived as a child then been raised alongside her future husband, Francois II. Okay, that ended badly for pretty much everyone but the couple had been very happy before his premature death and so, it was hoped, would Louis and Mariana also be.
There was a ceremonial straight swap of Mariana for Élisabeth d'Orléans, who was destined to marry the eldest Spanish prince and become Queen of Spain in due course. After which, Mariana travelled on to Paris to take up residence in the Louvre under the care of Marie Anne de Bourbon, dowager Princesse de Conti, who was the daughter of Louis XIV and Louise de la Vallière and the absolute epitome of how a graceful, sophisticated and charming French princess ought to be. As might be expected, the Infanta's fiancé, Louis XV was not at all impressed by his tiny, blonde bride-to-be, although his courtiers were much more enamoured and thought she was incredibly sweet as she followed him adoringly around the court like a little pet. But, as Nancy Mitford put it 'boys of fifteen loathe sweet little girls and he felt humiliated at having such a small fiancée. He sulked whenever he saw her.' Oh dear, bet you saw that coming.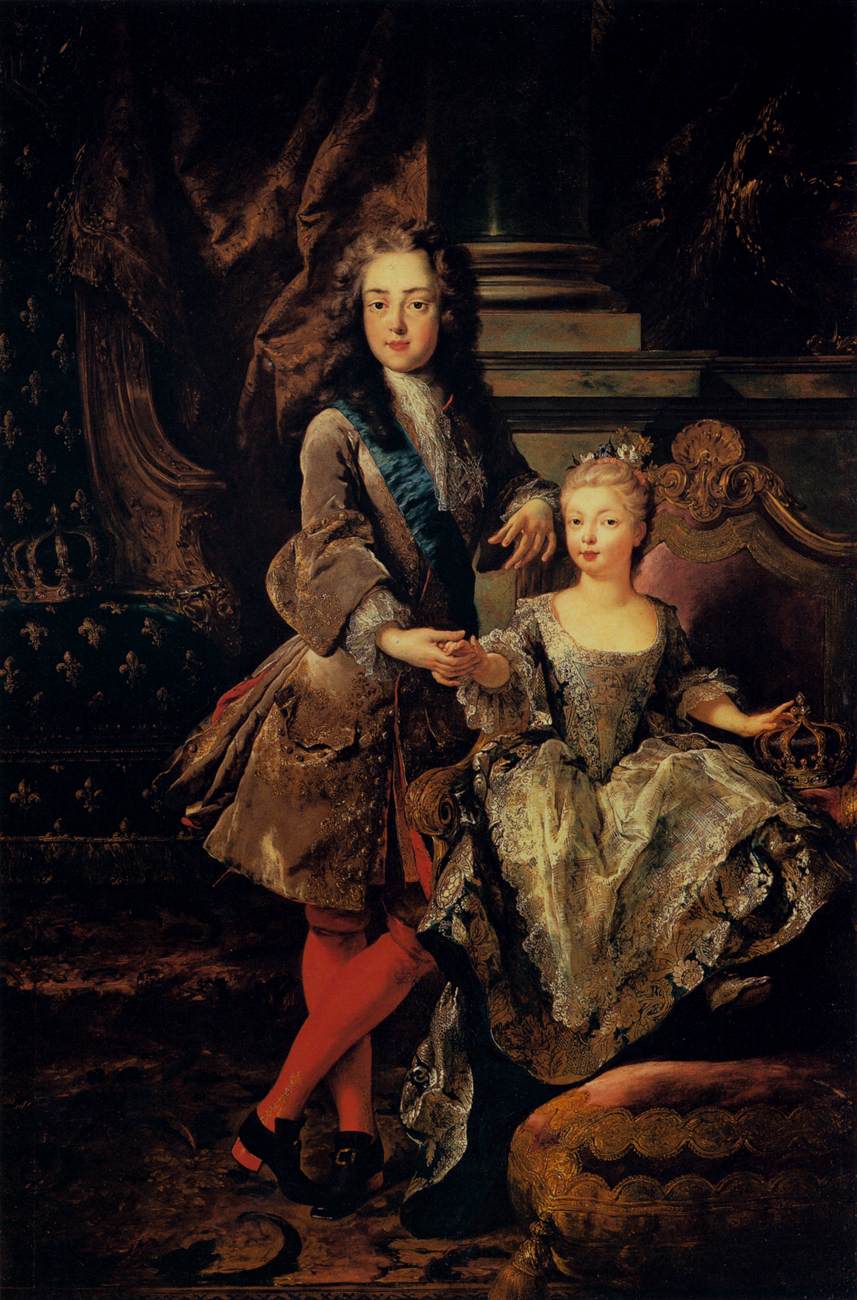 Louis XV of France and Mariana Victoria of Spain, De Troy, c1725. Photo: Galleria Palatina (Palazzo Pitti), Florence.
However, despite Louis' annoyance and the increasing misgivings of the Regent, who began to see that perhaps he had miscalculated somewhat, the betrothal continued, as did Mariana's residence in France, where she was raised with all the pomp and fuss that was considered suitable for a future Queen. I love the portraits that were painted at this time of she and Louis together – like weird little snapshots of a very strange couple. Mariana, it has to be said, always looks pleased as punch to be posing beside her good looking elder cousin and if she had closer to him in age then I expect they would have made a most delightful couple and the whole history of Europe would have been changed forever.
However, it was not to be. By the time he was fifteen and had achieved his majority (and returned the court, including Mariana, to Versailles), Louis had had enough of his little fiancée, who was now seven, and, more pressingly, it was felt that as the sole legitimate direct Bourbon heir of Louis XIV, he really ought to be married and producing children of his own as soon as possible. There was also a worry that the young king, who was already beginning to show a marked interest in the fairer sex, might go the way of his forebear, Henri II and fall under the influence of a much older mistress, another Diane de Poitiers, if he wasn't allowed to marry soon.
Louis XV and Mariana Victoria of Spain, Belle, c1723. Photo: Château de Versailles.
In short, Mariana was dumped and the arrangements were made to have her sent back to Spain in the spring of 1725, once again to be exchanged with Élisabeth d'Orléans at the border as her elder brother had died, leaving Élisabeth widowed and no longer welcome at the Spanish court. Awkward. As might be expected, the return of the Spanish princess, who was no doubt extremely disappointed not to be marrying Louis after all, was taken as the most enormous insult by the Spanish and relations between the two countries started to break down again, although to be fair I think they were being a tad optimistic, not to say unreasonable in expecting Louis XV to hang on until his mid twenties before settling down to marriage.
It all ended happily for Mariana though. She was welcomed home by her parents, particularly her mother, Elisabeth Farnese, who was no doubt pleased to be reunited with her daughter albeit in rather less than perfect circumstances and another match was quickly negotiated, this time with the Portuguese, although at one point the teenaged Tsar Peter II of Russia was mooted as alternative possibility before he married someone else then promptly died.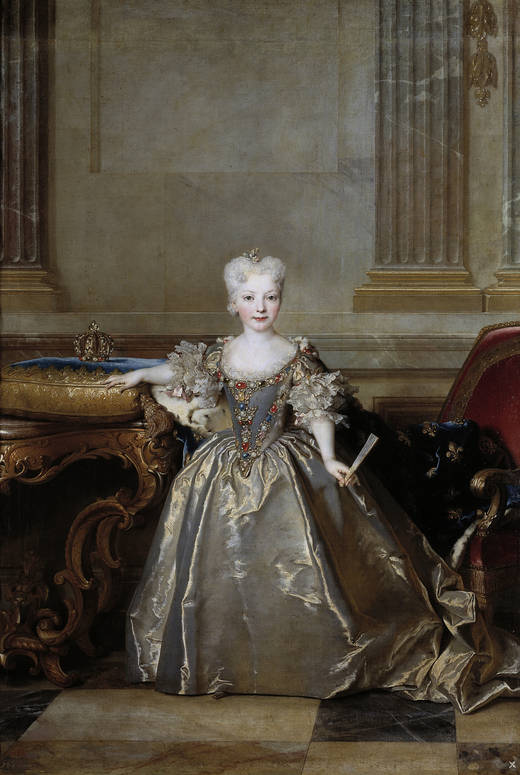 Infanta Mariana Victoria of Spain, Largillière, 1724. Photo: Prado, Madrid.
The Portuguese match went ahead though on the 19th of January 1729, when the eleven year old Mariana was married to the fifteen year old Infante José, Prince of Brazil and heir of King John V, while her brother was married to José's sister, Barbara. This match turned out much better than the prospective one with France as Mariana and her husband became very fond of each other, mainly thanks to having shared interests in theatre, music and hunting as well as both being devoutly pious, something that would no doubt have caused ructions with Louis XV had they ended up married, just as it did between him and his eventual wife, Marie Leczinska.
However, although she shared his hobbies, Mariana was much less keen on her husband's numerous mistresses and being somewhat domineering by nature, she didn't put up and shut up as meeker princesses might have done but instead thought nothing of telling him off. Despite all this though, the couple had eight children, of which four daughters survived to adulthood: Maria (born in December 1734 and the future Queen of Portugal); Mariana (born in October 1736); Doroteia (born in September 1739) and Benedita (born in July 1746). Unsurprisingly, when it was suggested that her second daughter, Infanta Mariana be married to the son of her former fiancé, Louis XV, Mariana absolutely refused to countenance such an idea and her own younger sister, Maria Teresa Rafaela of Spain was packed off to Versailles to become Dauphine instead. However, in rather more odd developments, Mariana saw no problem at all with arranging marriages between her eldest daughter Maria and her brother-in-law (yup, Maria's uncle), the Infante Pedro and also her youngest daughter Benedita and her grandson, Infante Joseph, the eldest son and heir of her own eldest daughter Maria and Benedita's nephew. Oh dear.
Infanta Mariana Victoria of Spain, Ranc, c1729. Photo: Prado, Madrid.
Mariana's husband succeeded to the throne of Portugal in 1750, but their reign was to be a rocky one thanks to the terrible Lisbon earthquake of 1755 (which took place on the day that Marie Antoinette was born, which was awkward as Mariana and her husband acted as her godparents) as the new King fell under the influence of his secretary of State, the Marquis de Pombal, a man completely detested by the intelligent and forceful Mariana, who no doubt felt that SHE should be the power behind the throne. However, her moment came in 1776, when her husband's increasingly poor health meant that she was made Regent of Portugal and was able to take matters into her own hands. Her power increased further when she was widowed in February 1777 and her eldest daughter, the forty three year old Infanta Maria, who was reliant on her mother's advice and support, succeeded to the throne of Portugal as Maria I.
When she was finally able to use her own prodigious talents and abilities to the full, Mariana proved herself to be a capable and just ruler of Portugal. As might be expected she concentrated much of her efforts on healing the rift that had sprung up between Portugal and her own country, Spain and so decided to return there for a year, leaving in October 1777 – ostensibly to visit her family but really to broker yet more of those dynastic marriages that held Europe together like sticking plaster during the eighteenth century.
Mariana Victoria, circle of Ziesenis, c1735.
Mariana died in January 1781, outliving her former fiancé, Louis XV by almost seven years and definitely more popular than he was. Revenge is sweet.
******
Set against the infamous Jack the Ripper murders of autumn 1888 and based on the author's own family history, From Whitechapel is a dark and sumptuous tale of bittersweet love, friendship, loss and redemption and is available NOW from Amazon UK
and Amazon US.
'Frothy, light hearted, gorgeous. The perfect summer read.' Minette, my young adult novel of 17th century posh doom and intrigue is now £2.02 from Amazon UK
and $2.99 from Amazon US.
Blood Sisters, my novel of posh doom and iniquity during the French Revolution is just a fiver (offer is UK only sorry!) right now! Just use the clicky box on my blog sidebar to order your copy!