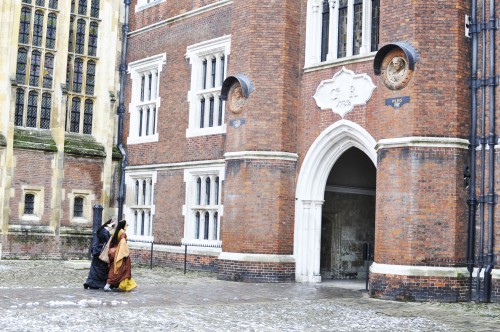 As you will all no doubt know by now, I have been a fan of the Historic Royal Palace team's work for a really long time. It's hard to think of many other organisations so wholeheartedly committed to bringing the past to life and who consistently work so hard to make learning about history so fun and fresh and relevant to modern day audiences. Of course, it doesn't hurt that they take care of such a fascinating array of properties but while other organisations might perhaps take a more conservative approach, they prefer instead to take a much more modern, innovative and refreshing approach.
I always LOVE my press jaunts to Historic Royal Palaces events so as you can imagine, I accepted with alacrity when an invitation came through for one of their brilliant press days at Hampton Court Palace. The one I went on last year was brilliant fun and I expected more of the same, but with a Tudor rather than Georgian twist this time around as, of course, this year marks the 500th anniversary of the start of Cardinal Wolsey's ambitious building project at Hampton Court on land that he had bought a year previously. Of course, it doesn't hurt that we're all suffering from that most iniquitous of complaints known as Tudor Fever again thanks to the superb television debut of Hilary Mantel's Wolf Hall. Yes, even I, with my well documented case of Tudor Ennui (it's the post viral stage of Tudor Fever) have fallen victim and am currently devouring Tudor biographies again like they are going out of fashion. Oh, who am I kidding? Clearly, they are NEVER going to go out of fashion!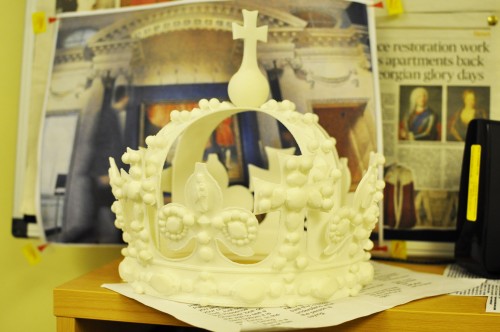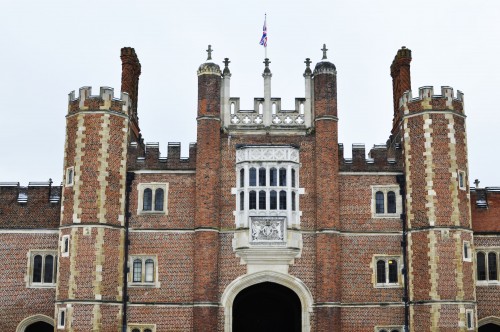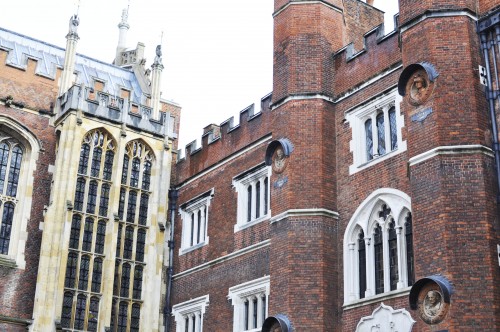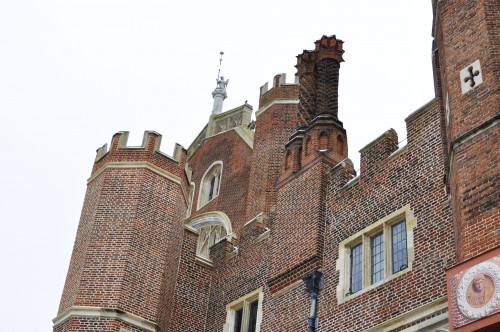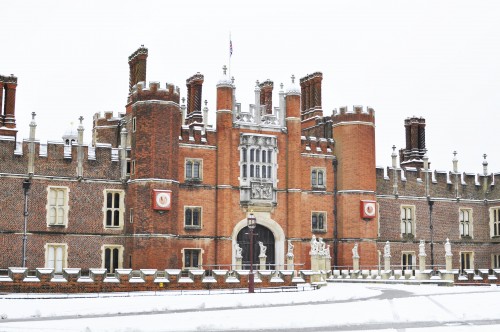 Therefore, as you can imagine I was SUPER PUMPED about the press day and even more so when I got up that morning, opened the curtains of my lovely friend's flat and saw that it had snowed over night and turned north London into Narnia. I was so excited, in fact, about the prospect of seeing Hampton Court Palace looking all picturesque in the snow that I got to Waterloo a whole hour early, which turned out to be a lucky move as it meant that I bumped into some of the press team and got to travel with them.
Hampton Court is every bit as beautiful in the snow as I had anticipated and it really was an enormous treat to see it that way, looking all russet stoned and magnificent against the crisp white snow. It was FREEZING though so we whisked off to the press office to warm up beside a radiator while waiting for everyone else to arrive. This also gave me an opportunity to get a close look at the celebrated 3D printed model of Henry VIII's crown, which takes pride of place on a filing cabinet in their office. They very kindly let me try it on and prance about a bit but it is enormous and kept slipping down like a monstrous balaclava so there's no photographic evidence.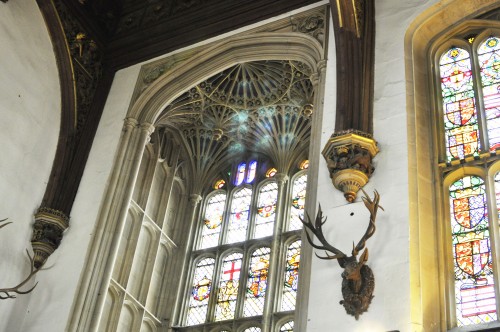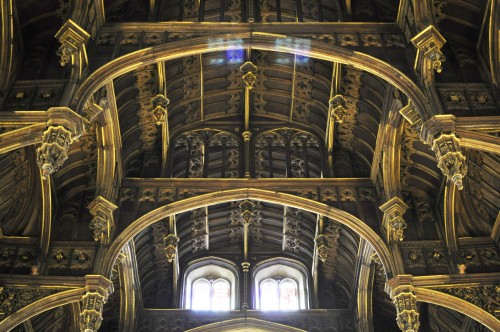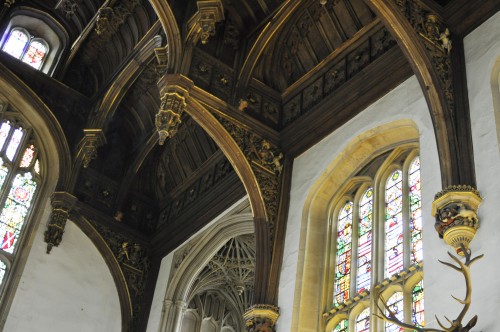 The day's official events kicked off with tea, biscuits and a great talk by Tracy Borman, joint chief curator of the Historic Royal Palaces, who gave us a talk about the fascinating history of Hampton Court from the sixteenth century onwards, from its inception as the luxurious residence of Cardinal Wolsey to its time as a royal palace to the present day. We were then given a talk about the amazing programme of events that the Historic Royal Palaces have lined up for us all this year. Although there will be a distinct underlying Tudor theme, the aim is to celebrate all of the 500 years that have passed since building work began and so all the different phases of the palace's history will be getting a mention.
There's no special exhibition at Hampton Court Palace this year, instead there will be a programme of events designed to showcase and celebrate events from the palace's long and fascinating history, such as the performances of Shakespeare's plays in the great hall before the glittering and dissolute court of James I. Other events will include family film making workshops in collaboration with Aardman Animations to create a film celebrating the palace's history and a special 'TimeQuake' quest for families over the May Day Bank Holiday, which will invite young visitors to travel back through time and meet key characters from Hampton Court's past.
For adult visitors, the famous wine fountain will be flowing with wine every afternoon from Easter so that visitors can offer up a toast for the palace's birthday and there's also going to be even more costumed actors about the palace, recreating not just famous personages from the Tudor court but also recognisable faces from throughout the palace's history, such as Charles I and Oliver Cromwell and staging small vignettes around the palace to bring its rich history to dramatic life. There will also be a wonderful celebration taking place across the Easter weekend, culminating with a glorious firework display.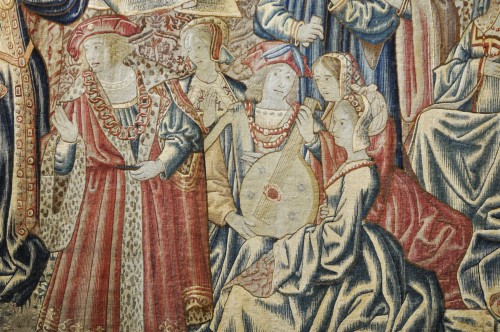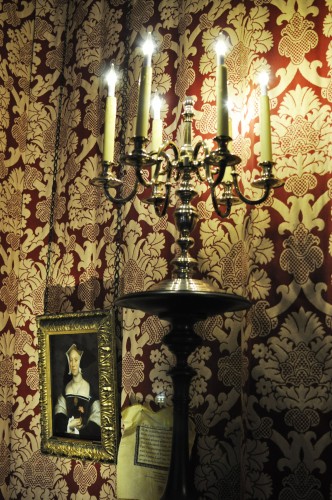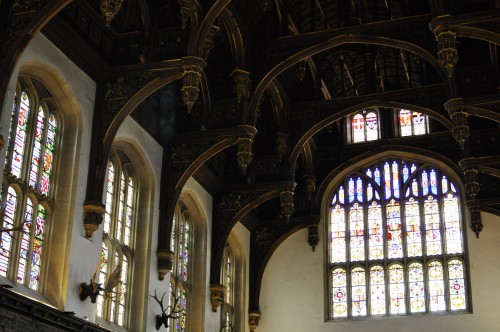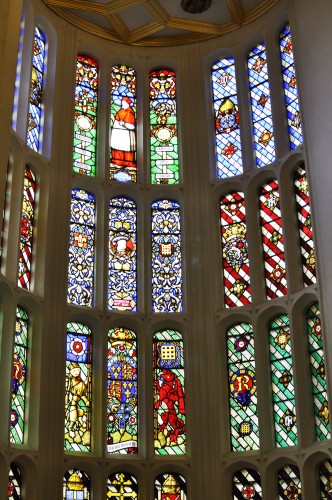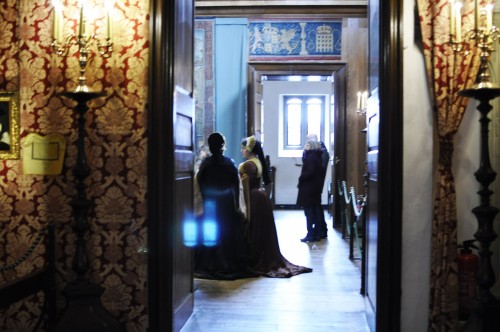 I'm personally most excited about the historic carriages which have been commissioned to sit in front of the iconic Tudor gatehouse – including a recreation of Elizabeth I's flamboyantly carved and decorated litter, which she used during her progresses. Pleasingly, visitors will be able to clamber inside the carriages and experience them for themselves, which is really ace. There will also be two huge garden parties staged to celebrate the two distinct halves of the palace, with Henry VIII's Tudor half recreating a splendid ambassadorial welcome with jousting, dancing and banqueting and the Baroque half featuring Charles II and Catherine of Braganza hosting a splendid court masque in the beautiful palace gardens, complete with doe eyed Carolingian court beauties. I really hope that I get to see at least one of these!
After the talk, it was time to follow the Buildings Curator Dan Jackson on a special tour of the palace's richly diverse architecture, which led us through the Tudor apartments and out to the Fountain Court, where we learned what the different buildings can teach us about the different phases of Hampton Court's long life and the functions of its different areas. We were also lucky enough to see some really wonderful behind the scenes treasures, such as some of the foundations of the now lost Queen's apartments originally intended for Anne Boleyn, which were recently accidentally unearthed during a renovation of one of the downstairs rooms and the ornate stone entrance, which is one of the last remaining traces of the Tudor built Queen's apartments, and which now leads to a storeroom.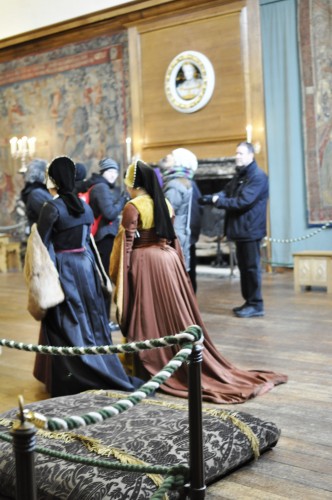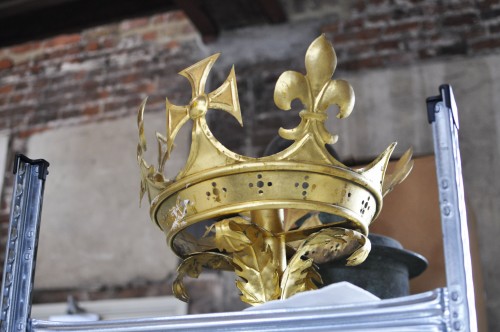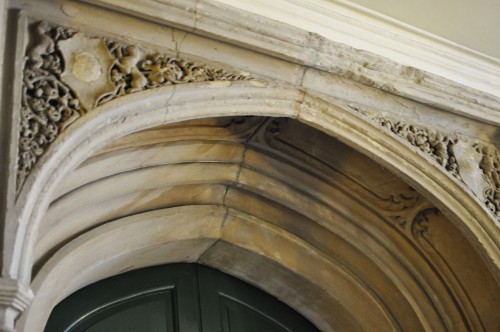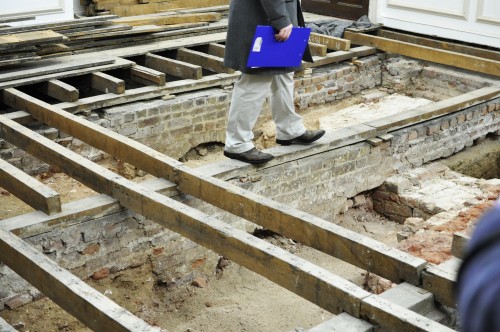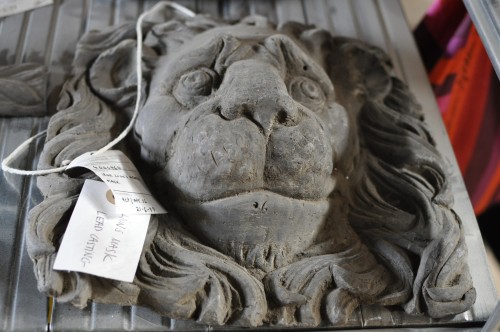 We were also treated to a glimpse of the room where Jane Seymour is believed to have given birth to Edward VI amongst all the traditions and superstitions of the royal birthing chamber, where she was immured with great ceremony towards the end of her pregnancy, entombed in a comforting and hushed female world. Sadly, it's also the room where Jane passed away shortly after the birth of her son, fated never to see him succeed his father as king. Nowadays it is used as a meeting room and very little remains of its former splendid Tudor trappings (although the recent brilliant A Night at Hampton Court documentary hosted by Lucy Worsley and David Starkey used some television trickery to show how it probably looked almost five hundred years ago) other than a wonderful Tudor carved stone fireplace.
After this we went up to the palace's archaeological stores under the palace eaves to take a look at some salvaged relics and hidden treasures from the palace's chequered past, such as some of the delicately elegant decoration of Wolsey's lavish apartments and a stone emblem of Jane Seymour, which once decorated the facade of the palace. These may seem like rather ordinary objects in some respects but just imagine the sights that they have seen.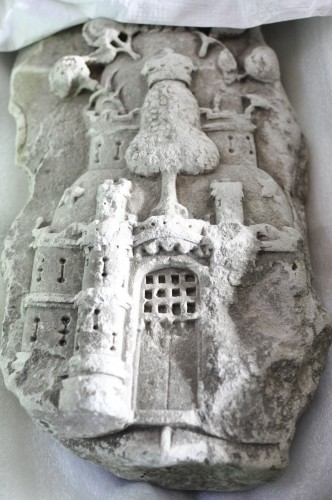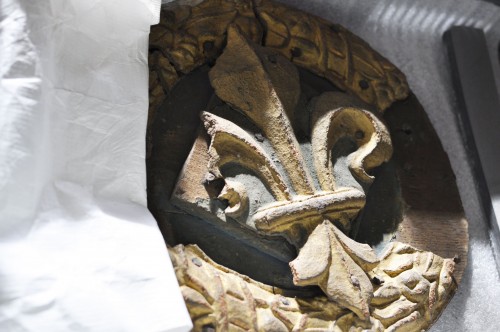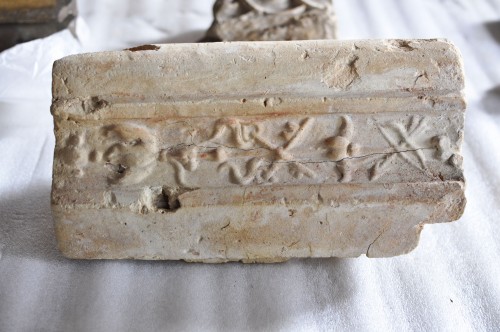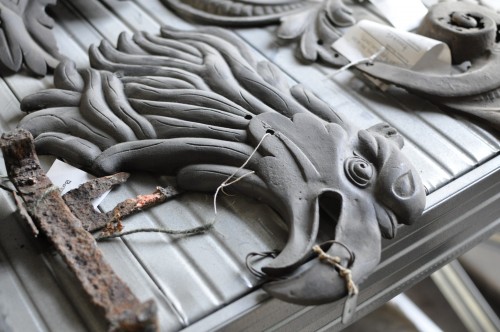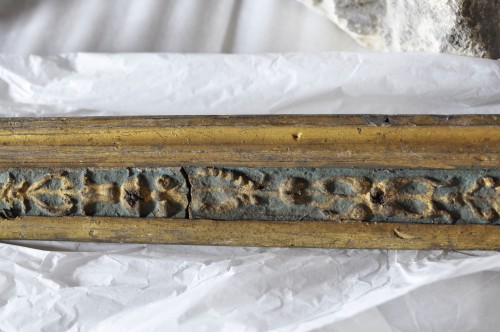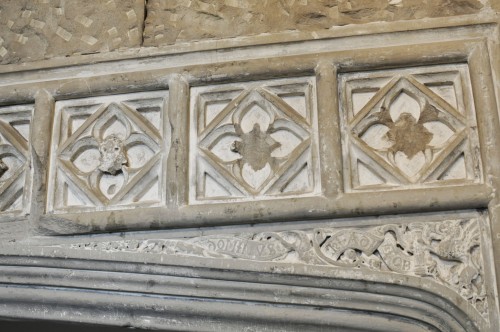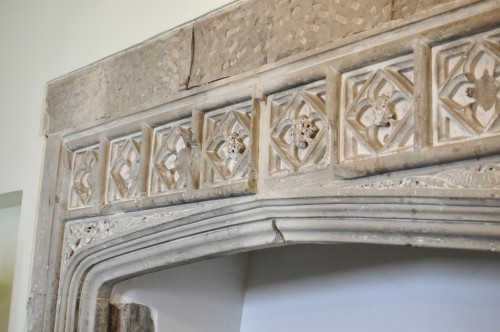 Feeling like we had seen ALL THE THINGS we then went down for a very special historical lunch in the Fountain Court Café in the company of Tracy Borman and food historian Mark Meltonville, both of whom were on my table (in fact, Tracy Borman was next to me, which was great as it meant I could talk to her about Wolf Hall, The Tudors and do some decorous fan girling over Thomas Cromwell – all of which, along with Marie de Guise and Harry Potter, are my most favourite topics of conversation right now so it was superb).
Although we had been told beforehand that lunch would be 'a journey through five centuries of food at Hampton Court', we weren't expecting anything quite so splendidly lavish as the three course feast that was placed before us by a flock of charming waiters. There was wine too, which was ace and probably encouraged the terrible ensuing conversations about how Henry VIII and Anne of Cleves were like the worst Tindr date ever ('YOU DON'T LOOK ANYTHING LIKE YOUR PICTURE', 'NOR DO YOU' 'BEGONE!' etc) and other such gems.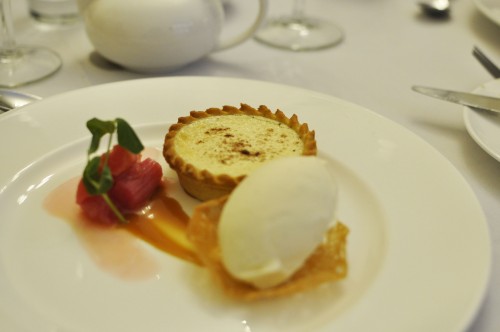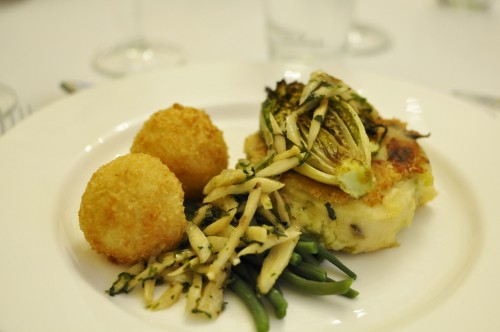 I probably should have taken notes but I THINK the first course was a Georgian style onion soup, which was much thicker and creamier than modern versions and seriously delicious. This was followed by a Tudor style potato cake with sautéed skillets (a type of root vegetable like a parsnip) for we vegetarians (the meat eaters had some authentic Tudor roast beef cooked up in the palace kitchens) accompanied by some Victorian vegetable side dishes of french beans à la Française and potato balls. This was followed by a seventeenth century style curd tart served à la mode with some twentieth century recipe vanilla ice cream. It was all seriously delicious and looked absolutely beautiful. What a splendid treat.
After lunch we were whisked off (with an extra super special glimpse of that ICON of the East End, Viscountess Boudicca, who is probably well known to all my fellow Spitalfields Life fans and who seems to have been visiting Hampton Court on the same day as me) to the Royal Ceremonial Dress Collection, which is now mostly housed at Hampton Court Palace as it had to be moved out of Kensington Palace to make way for Duke and Duchess of Cambridge. In fact, VERY long term readers of this blog may well recall that I visited the collection in its original home in the former apartments of Princess Margaret MANY years ago, where I was shown some amazing treasures like Edward VIII's beautiful tan leather safari boots, one of Queen Victoria's jet spangled mourning bodices and an extraordinarily fanciful Elizabethan style doublet worn at George IV's coronation.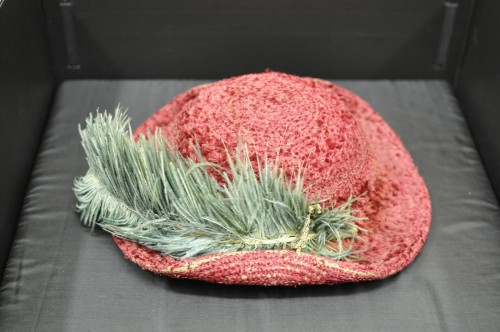 After being welcomed to the collection by dress curator Eleri Lynn and given a brief introductory talk about the work that they do, we were whisked into the presence of one of the most exciting fashion acquisitions in a VERY long time. Yes, that's right: Henry VIII's hat, which was all over the news recently after it was bought by the Royal Ceremonial Dress Collection for £12,000 on Christmas Eve from a descendant of Nicholas Bristowe, who was Henry's Clerk of the Wardrobe. Apparently there was an even greater bid from an anonymous foreign bidder (I bet it was Lady Gaga), but the original owner accepted a lower bid from the Historic Royal Palaces so that it would stay in the country and also return 'home' to Hampton Court Palace.
It's not known for absolute certain that the hat was worn by Henry himself but the provenance (it is of the right period and the remarkably well preserved luxurious materials involved in its making suggest that it could only have been owned by someone of very high status) definitely strongly suggests that this was the case. It's said that Henry wore the hat, which is made from felt and crimson tufted silk to the fall of Boulogne in 1546 and that it was caught and taken away as spoils by Bristowe after Henry threw it up into the air to celebrate the end of his siege. We were all rather star struck, I think, to find ourselves in the presence of such a celebrated piece of headgear. Well, who wouldn't be? The hat is not currently on display to the public as it requires some conservation work, but will hopefully be put on display at some point in the future so that everyone can bask in its glory.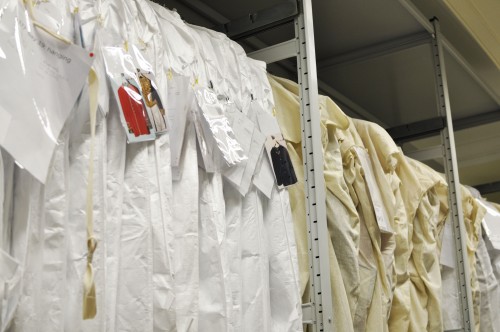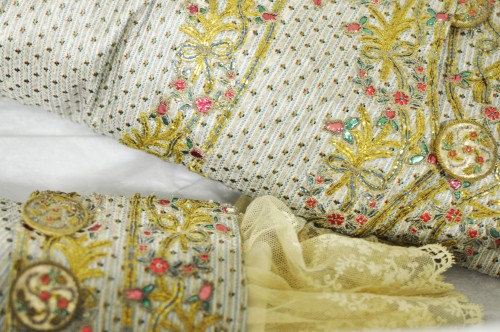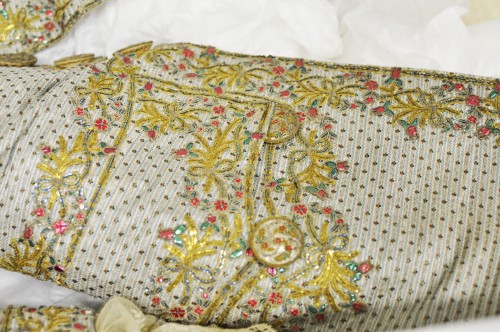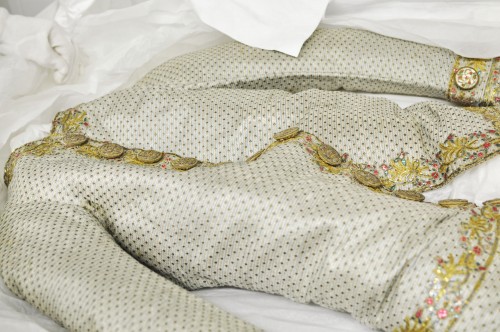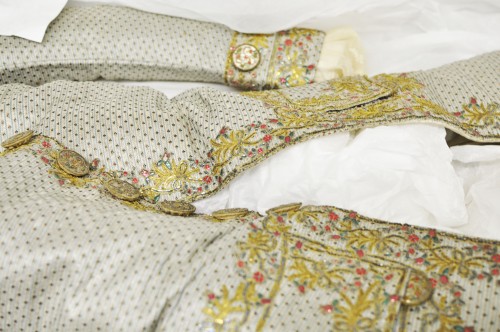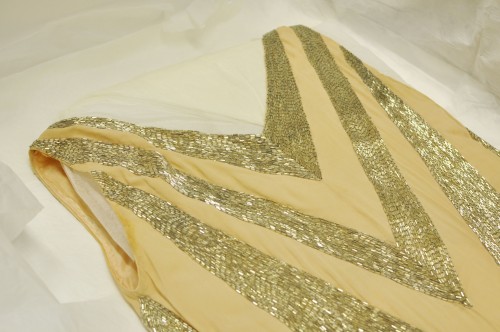 After this we were shown various other items of dress held in the collections, such as a beautiful peach and pink sequinned Lanvin gown worn by a debutante's sponsor at her royal presentation in the 1920s, a gorgeous silver embroidered muslin gown from the 1780s worn by Lady Rockingham (who also wore the gorgeous cloth of silver Rockingham Mantua, which is currently on display in Kensington Palace) to a court function and a wonderfully preserved and extremely beautiful suit worn by a Georgian courtier.
There were some other royal treasures to be seen as well, including a beautifully tailored suit worn by Edward VIII and a remarkably similar one worn several decades later by Diana, Princess of Wales during a famously awkward photo shoot that took place while she and Prince Charles were on honeymoon at Balmoral Castle. I've always thought it was a frumptastic outfit for a girl of just twenty one to be wearing even in the countryside (Edward's suit was worn in town, which was considered rather outrageous – one of the chief tenets of good breeding being, after all, the ability to suit one's outfit to one's surroundings, something that our present Queen totally wins at) and seeing it in the flesh has just confirmed that for me. Poor Diana.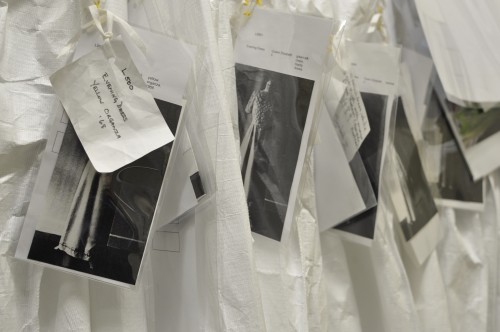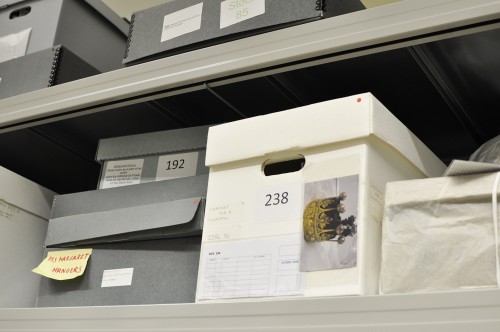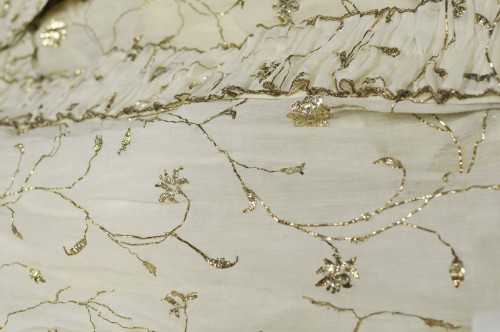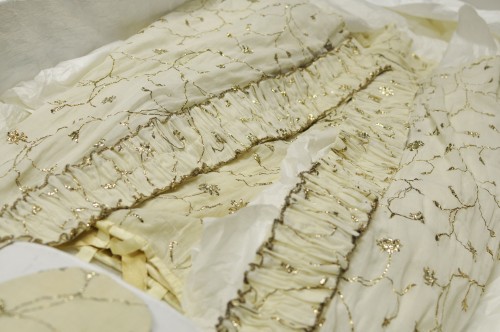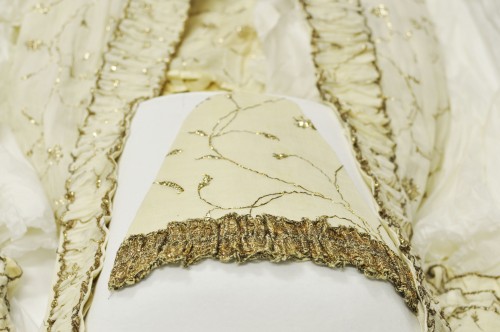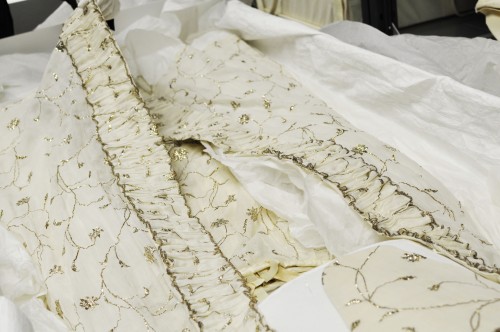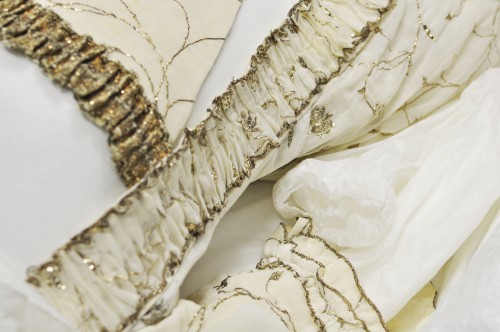 After we had finished in the Royal Ceremonial Dress Collection it was time for one of the much anticipated highlights of a day which was ALREADY absolutely PACKED with highlights. Yes, that's right, it was time to go up on to the palace roof. Now, as long term readers of this blog will no doubt already know, I am absolutely terrified of heights so I really wasn't looking forward to the great treat that had been planned for the end of our visit. I was determined to do it anyway though because, quite frankly, I felt extraordinarily fortunate to be there and to be allowed to do such a thing so I was hardly going to turn down what might be a once in a lifetime chance to do something so cool.
My nerve seriously failed me, however, on the way up when I realised that the staircase we were climbing was cantilevered and with no visible means of support. This realisation had the ill timed effect of turning my already perilously weak legs to molten jelly and it was seriously looking like I might not be able to go up.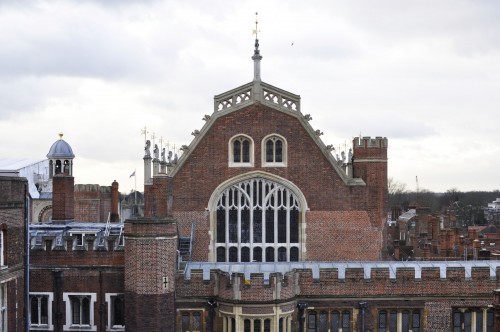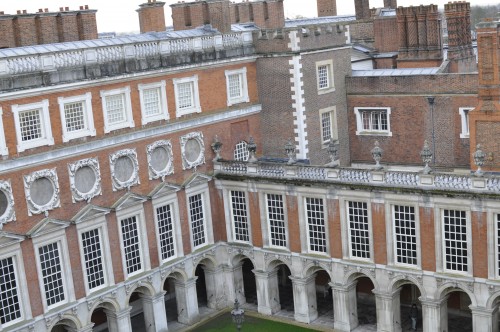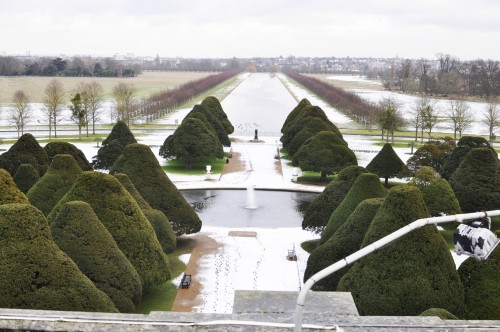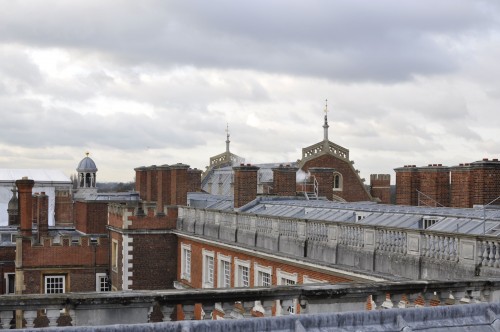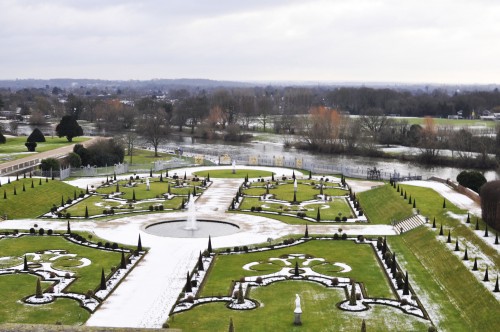 However, having made it to the top of the stairs it seemed to me that I might as well go outside and see how I felt – after all, if it was really terrible I could just come straight back down again, right? So up I went and, my dears, I am SO glad that I did as it was honestly one of the best things ever. The views, both across the snow covered gardens and the palace rooftops themselves, were magnificent and it was actually really pretty fun clambering about the roof and getting unique views of the palace grounds, London in the distance and, closer to home, those famous twisted red brick chimneys. It was absolutely wonderful and the perfect end to what was a truly special day.
We saw SO MANY THINGS during our day behind the scenes at Hampton Court and I came away absolutely buzzing with ideas and all sorts of thoughts about the Tudors and their successors in the palace, which had never before felt so replete and overflowing with STORIES (in fact now I'm wondering if there's a novel idea in that!). I also felt incredibly lucky to have been permitted to see such wonderful things. Blogging can sometimes be a pretty miserable experience every now and again but this was one of those great days when it really does feel like I have the best job in the world.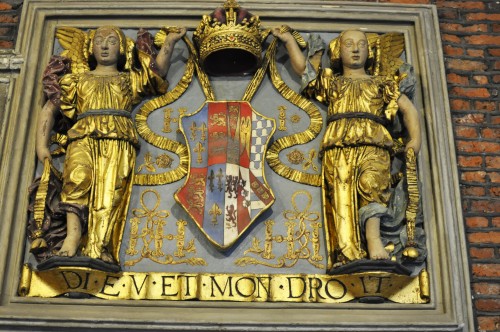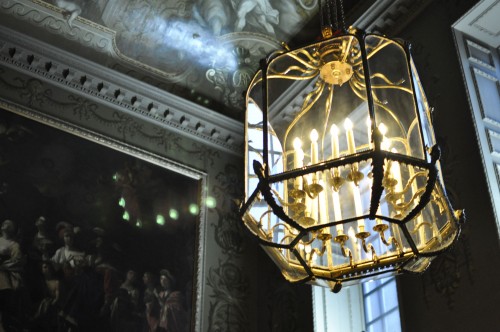 Thanks so much to the amazing team at the Historic Royal Palaces for inviting me along to such a superb and fascinating event. The Historic Royal Palaces is an independent charity that looks after some of our most splendid, historic and fascinating royal buildings and I'd definitely recommend getting membership, which will get you into all of their properties as well as priority booking for some really awesome events for twelve months.
******
Set against the infamous Jack the Ripper murders of autumn 1888 and based on the author's own family history, From Whitechapel is a dark and sumptuous tale of bittersweet love, friendship, loss and redemption and is available NOW from Amazon UK
, Amazon US and Burning Eye.
'Frothy, light hearted, gorgeous. The perfect summer read.' Minette, my young adult novel of 17th century posh doom and intrigue is available from Amazon UK
and Amazon US and is CHEAP AS CHIPS as we like to say in dear old Blighty.