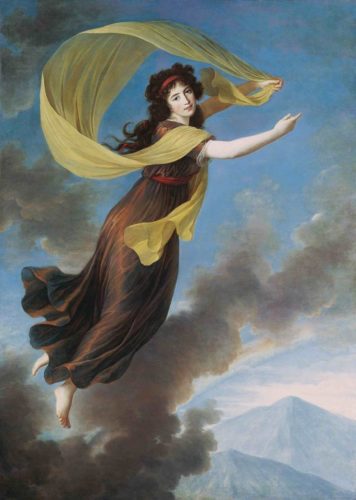 Today's painting by Élisabeth Louise Vigée Le Brun is her rather unusual portrait of Karoline Felicitas von Manderscheid-Blankenheim, Princess of Liechtenstein (1768-1831), which was painted in Vienna in 1793. The princess chose to be painted as Iris, goddess of rainbows and messenger of the Olympian gods. Although Karoline had no children with her husband, whom she married three days after her fifteenth birthday in 1783, she had two with her lover, Captain Franz von Langendonck.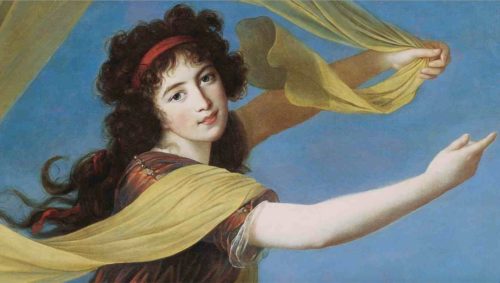 Vigée Le Brun described the winsome princess in her memoirs as 'very shapely: her pretty face had a sweet and heavenly expression, which gave me the idea to represent her as Iris. She was painted full length soaring into the air. Her scarf, in the colours of the rainbow, fluttered about her. You can well imagine that I painted her barefoot; but when that painting was placed in the prince's gallery, her husband and the heads of the family were very scandalised to see the princess shown without shoes, and the prince told me that he had a pretty pair put under the portrait, telling the grandparents that the shoes had just slipped out and fallen on to the floor.'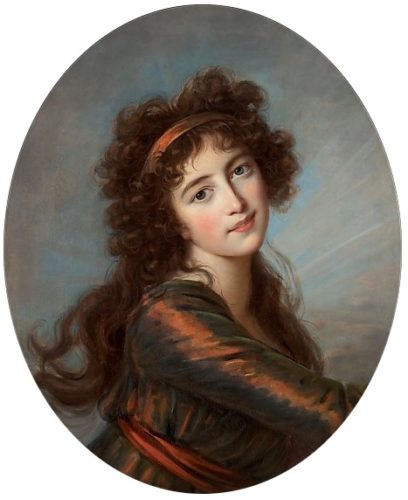 The prince may have been initially shocked by the lack of shoes in his adored wife's portrait but he was overall so smitten by the work that he later commissioned a bust length version later in the same year.