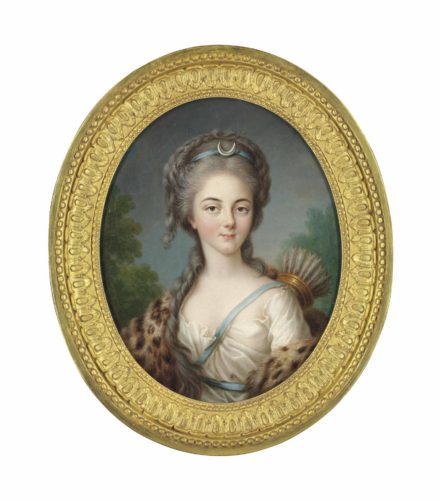 Today's painting by Élisabeth Louise Vigée Le Brun is her charming portrait of Anne Charlotte de Lorraine, Mademoiselle de Brionne (1755-1786), younger daughter of Louis de Lorraine, Prince de Brionne and his third wife Louise Julie Constance de Rohan, daughter of the Prince de Rochefort. In 1782, the enchanting Mademoiselle de Brionne was made abbess of the highly prestigious and extremely wealthy abbey of Remiremont, which only accepted ladies from the highest nobility and had secular canonesses, who were not obliged to take holy vows and were free to leave at any time and even get married. Life at Remiremont was extremely pleasant and becoming abbess was considered an extremely plum position, although there was little chance of anyone outside the Lorraine clain landing it as the abbey had such strong links to the family. Mademoiselle de Brionne took up her position in August 1784 but only stayed at Remiremont until the middle of September, whereupon she left – never to return.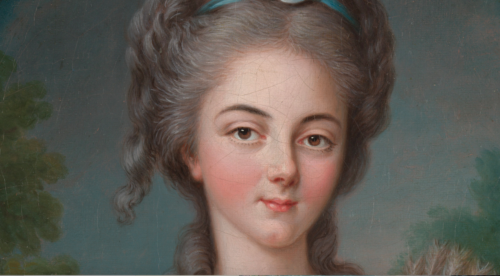 Mademoiselle de Brionne's father was a cousin of Emperor Francis I, father of Marie Antoinette and when her marriage to the Dauphin took place in early 1770, her mother, who was a mistress of the Duc de Choiseul, saw an opportunity to promote her own daughters and insisted that as members of the new Dauphine's family, the Lorraines, they should take pride of place at the celebratory wedding ball at Versailles and dance in the first minuet, which was a great honour reserved only for the most important ladies at court. However, when word got out that the Brionne girls were going to be dancing first, several high born ladies, including a number of Duchesses, announced that they would not be attending the ball in protest at this crime against etiquette, which normally decreed that the two girls were much lower in the general pecking order. There was a huge fuss about the whole thing, with a number of appeals even being made to Louis XV to sort matters out, which didn't help much as he absolutely hated getting involved in court dramas and so resulted in him absolutely refusing to intervene. In the end, Mademoiselle de Brionne did indeed start the ball but Marie Antoinette's mischievous new brother-in-law, the Comte d'Artois ruined the effect of this by dancing again after her, which signalled that the normal rules of rank had been abandoned and made her position as first dancer less impressive.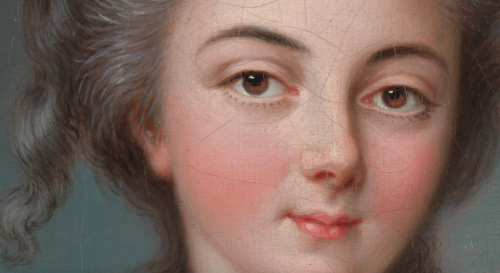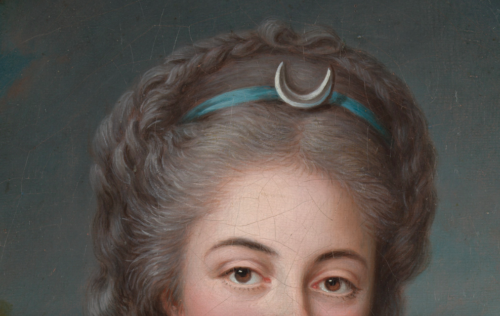 This portrait, delightful though it is, is clearly an early work as it's rather different in style to her later, more familiar paintings. It seems to have been painted in around 1775, when Vigée Le Brun was just twenty years old (the exact same age as her sitter). She had been painting professionally since her mid teens, but was at this point still operating on the periphery of the court and had not yet reached the attention of Marie Antoinette.
Interestingly, this lovely painting was in the collection of Raine, Countess Spencer, the step mother of Diana, Princess of Wales and after her death was auctioned in 2017, along with several of her other belongings, by Christie's. The estimated price was between £15,000 and £25,000 but it was eventually sold for £43,750 (which is actually pretty cheap for a Vigée Le Brun nowadays as they often sell for hundreds of thousands!) with the buyers then donating it to the National Gallery of Victoria in Melbourne, Australia.