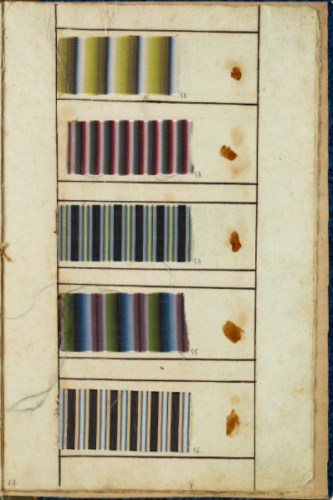 It's so amazing that Madame Élisabeth's 'gazette' that she used to select clothes in the summer of 1792 still exists. Madame Élisabeth would use this book to choose her outfits for the day by placing a pin next to the relevant fabric. This fascinating document reveals a lot about the princess' taste in clothes and shows that she loved stripes, 'ikat' style patterns and deep colours. It also serves as a reminder that Élisabeth was still a young woman in the summer of 1792 (she turned twenty eight in May of that year) and still enjoyed a healthy interest in fashion.
Some of the patterns are really lovely and even quite contemporary in style, and this document reveals how elegant and colourful the French royal family's clothes were even in 1792, although they would lose the majority of their personal belongings after the sacking of the Tuileries in August of that year and would have a greatly reduced income after that point.
I was lucky enough to see the real thing last year in the Archives Nationales in Paris and am so pleased it's online. I'm currently working on Élisabeth's biography, which is due to be published in autumn 2021, and am feeling very restricted by the fact that it might be a very long time before I'm able to return to France. Luckily there's lots for me to look at online, until I can see them in person again.