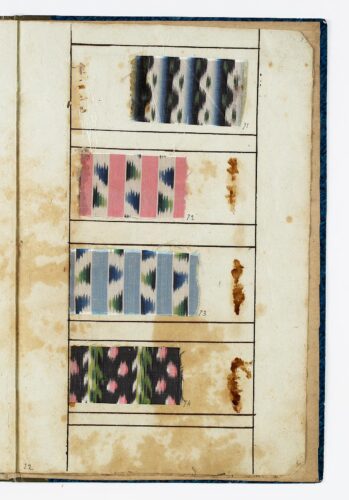 Marie Antoinette's 1782 'gazette', which contained fabric samples from all of her dresses and which was used to keep a record of her clothes and possibly help the Queen select her outfits for the day (there is some doubt whether this book was the exact one presented to Marie Antoinette every morning so she could place a pin beside her choices) is preserved in the Archives Nationales in Paris.
Marie Antoinette turned twenty seven in November 1782 and this extraordinary document reveals much about her taste in clothes in her late twenties, when she showed a definite preference for blues, deep purples and pinks – all colours that would have looked wonderful with her colouring and famously fresh complexion. The notes beside each sample describe the style of the dress, such as 'grand paniers', 'anglais', 'turc', 'redingote' and 'levité' etc which helps give an idea of what the complete garment would have looked.
This wonderful artefact was in the possession of Marie Antoinette's dame d'autours Génevieve de Gramont, Comtesse d'Ossun (1752-1794), who had charge of the Queen's enormous wardrobe, until it was seized by the authorities after her arrest. Madame d'Ossun was guillotined on 26th July 1794, just one day before the fall of Robespierre and the effective end of the Terror.